Press Kit
THE REPUBLIC OF SIERRA LEONE ANNOUNCEMENT
The Republic of Sierra Leone
Transitioning As Africa's First Ever "Smart Country"
Sierra Leone President Koroma and RippleNami, Inc. Announce a Nationwide Blockchain
Data Visualization Based Digitization Program to Connect the Unconnected
WHAT:
Sierra Leone's Minister of Foreign Affairs, Dr. Samura Kamara
will address the United Nations General Assembly on behalf of President Bai Koroma
WHEN:
Friday, September 22, 2017 at 9:30PM
WHERE:
United Nations Headquarters, New York
Sierra Leone President Ernest Bai Koroma and RippleNami Inc., a blockchain systems solution provider, announce a nationwide digitization program that will forever change Sierra Leone's global digital standing. By leapfrogging legacy information communication technology (ICT) systems with RippleNami's proprietary technology platform, Sierra Leone is poised to penetrate global markets, obtain economic independence, and elevate the prosperity of its people.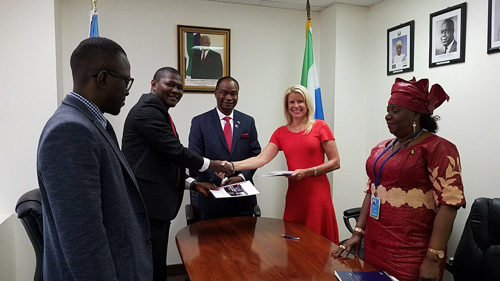 FREQUENTLY ASKED QUESTIONS
What is a "Smart Country?"
A Smart Country is a nation that leapfrogs legacy Information Communication Technology (ICT) systems and uses digitization to drive socio-technical transformation that raises the standard of living for its citizens, enhances the quality of government and enables economic inclusion for its people in today's global economy.
What is "digitization?"
Digitization is the mass adoption of connected digital technologies that enable consumers, enterprises and governments to generate, manage, process, share and transact data.
Why is this program important to the citizens of Sierra Leone?
The citizens of Sierra Leone lack identification and documentation, which excludes them from property ownership, free movement and social protections. This digitization program enables the generation and control of personal data required to deliver services that lead to increased economic inclusion.
The country's private sector entities and government bodies also lack the basic data and modern analytical tools to accurately assess needs and to take fact-based actions. The program enables the generation and collection of fundamental demographic, economic and social data, integrates that data with other big data sources, to provide innovative map-based visualization tools that will lead to better decisions and more effective social and economic services.
Furthermore, like many other African nations, Sierra Leone relies heavily on official development assistance from multilateral organizations and other countries to provide many of the basic services needed by its citizens. Through the data created and managed by this digitization program, Sierra Leone will develop the social and economic opportunities that will reduce, and eventually eliminate, reliance on international assistance.
Isn't Dubai really the first Smart Country?
The city of Dubai has made commendable progress in their Smart Dubai initiative. In 2016, the champions of this initiative viewed the city as a global "pilot" that potentially can contribute to influencing wider global development efforts.
The city of Dubai and the country of Sierra Leone, share a common goal, but differ in their starting points. Sierra Leone is starting with a clean slate on its path towards digitization. The country does not have to overcome the financial and opportunity costs of breaking down data silos inherent to legacy ICT systems. Starting with a clean slate, a Smart Country will move quickly to overcome the technical and bureaucratic obstacles created by these silos to focus on the data-driven services that raise the standards of living and enhance the quality of government for its people.
What is RippleNami's technology?
RippleNami developed a cloud based SaaS blockchain data visualization platform that ingests and aggregates unlimited data sources in any format to provide real-time geo tagged information on a map. RippleNami is the primary platform for customer interaction, giving users a complete picture of the data to detect patterns, identify trends and analyze gaps, leading to better decisions in a shorter amount of time.
Which blockchain technology will be used in Sierra Leone?
RippleNami is utilizing the Hyperledger Fabric as foundation for the blockchain network and its associated services in Sierra Leone. RippleNami leverages the Hyperledger Fabric for SaaS digital ID, smart contracts, document, supply chain and financial distributed management platform. Blockchain resolves a myriad of problems involving data veracity, document control, database management, property protection, and economic identity management through an incorruptible network.
Does the program involve the construction of a private blockchain network?
Yes. The program will deliver services built on information exchanged by nodes connected in a private blockchain. The private blockchain network will be expanded allowing trusted third-parties to interconnect on an as-needed basis.
Will the program develop a cryptocurrency?
No. RippleNami will not produce a cryptocurrency. We believe in supporting the local currencies and banking systems utilized in Sierra Leone.
What is the first service that will be available from the Smart Country program? When will it be available?
The program's first initiative includes a nationwide economic identification service. An economic identity is the digital or electronic credentials needed to gain financial access and economic empowerment. It is a record of a person's financial history, occupation, critical life events and daily transactions. We will begin with business licenses, as well as land/property, education, and healthcare records. Then will launch other critical life events such as:
• Harvest history, crop insurance, market access
• Micro finance
• Birth registration, immunization, health history
• Education and job skills
• Movable and other collateral for asset financing
The implementation is currently in process with a go-live roll out in the 4th quarter of 2017. Additional blockchain-based programs will increase levels of financial inclusion and improve access to public and government-provided services.
What 3rd-party applications will RippleNami use to deliver these services?
None. RippleNami developed all the blockchain-based applications software including the first ever real-time data visualization platform to enable the new services.
With fixed-line telephony and fixed Internet penetration 0.3% and 2.4%, respectivelyii, how will the citizens of Sierra Leone access the services?
Sierra Leone's citizens have embraced mobile lifestyles in every part of the country. Its citizens will access the many new blockchain-based services from smartphones and simple cellphone using USSD and SMS mobile services. A growing footprint of LTE network services will provide smartphone access to services enabled by graphics-rich applications.
Which government entities will be involved in the program?
RippleNami will work with all 23 ministers of the Sierra Leone government. To define and deploy the initial services, RippleNami and Data Edge Revenue will work closely with the Attorney General, the Ministers of Justice, Health and Sanitation, Education, Science and Technology, and Works, Housing and Infrastructure.
How will RippleNami create awareness and drive usage of the services that the program will provide?
RippleNami and Data Edge Revenue, along the respective ministries, will form partnerships with local municipal councils to launch the services and to provide the training and support needed to foster wide scale adoption.
Why Africa?
Africa presents many nascent and large opportunities where cost-effective, turnkey blockchain solutions can improve the lives of millions. RippleNami is focused solely on Africa and has created a big data solution by developing a Smart Country platform. The concept was originally created by the United States Department of Justice to become an information-sharing center, known as Fusion Centers, for all law enforcement agencies to collaborate. Since then, the IT industry has adopted the basic fundamentals and expanded Fusion Centers to be the epicenter for the decision-making process to address the magnitude of big data management issues.
RippleNami takes big data from a concept to a life improving reality for the people of Africa. The RippleNami system enables countries take advantage of the full value chain from initial acquisition to management, processing to application delivery.
What is the contract value of the program?
At this time, RippleNami cannot disclose the cost of the program.
What is the source of funding for the program?
At this time, RippleNami cannot disclose the source of funding for the program.