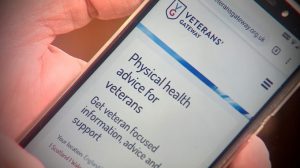 A new mobile phone app, developed by Northumbria University's Northern Hub for Veterans and Military Families Research and the US tech firm RippleNami, Inc., has been launched to help support veterans across the UK.
The Veterans' Gateway, a 24-hour service for veterans' support, has been funded by the Ministry of Defence and the Armed Forces Covenant TrustFund.
The first of its kind in the UK, the Veterans' Gateway app provides a comprehensive interactive digital directory of all services available for almost three million veterans across the country.
Watch video report HERE
The interactive app provides veterans with the locations of local hospitals, substance abuse clinics and details of how to access education, financial assistance, employment support, housing and shelters. It includes a recently added layer of support for those facing new challenges posed by the coronavirus pandemic.
Researchers say the app has been designed to draw anonymised geolocation data on what users are searching for, to help to identify particular issues that may be faced within different regions. This data will be used as evidence to show government where funding needs to be invested to improve services for veterans.